UV Light Sources
Edwards Engineered Products
512-267-4274
Standard Exposure Areas
UV light Sources Features
Lamp Height Designed for Optimum Exposure Levels and Maximum Corner to Corner Consistency.
Large Cooling Fan(s) for More Consistent Lamp Output. (Lamp Output Drops as Lamp Temperature Increases)
Trade-Up Option Lets You Trade Up to a Larger Size for the Difference Between Your Original Invoice Unit Cost and the Cost of the New Unit at the Time of Trade-Up, if you purchased your UV Light Source from Edwards Engineered Products; shipping charges not included.
Unfinished Hardwood (multi-ply) Cabinet Ready for Finishing to Your Tastes. Sandpaper upon request!
Extra Long Power Cord Helps Eliminate Darkroom Extension Cord Hazards.
Ground-Fault Shock Hazard Protected for 120 Volt Units.
1-Year No-Quibble Warranty.
UV Light Sources Available with Vacuum Frames. See Link
220-240Volts/50 Hertz Power Applications Available. See Link
Standard and High Output Units Available. More Info:
| | |
| --- | --- |
| Standard Output (STD) Unit Info | High Output (HO) Unit Info |
Standard Exposure Sizes

Standard Black Lights

High Output (HO) Black Lights

Overall Dimensions

11 X 14
8-1" 15 Watt tubes
8-1" 25 Watt tubes
22½" long by 15" wide by 8" high
14 X 16
12-1" 15 Watt tubes
12-1" 25 Watt tubes
22½" long by 20" wide by 8" high
18 X 20
12-1½" 20 Watt
12 High Output Reflector 40 watt Sun Tanning Lamps Imported from Germany
28½" long by 24" wide by 8½" high
20 X 24
16-1" 30 Watt
16 High Output Reflector 60 watt Sun Tanning Lamps Imported from Germany
40½" long by 27" wide by 8½" high for Std unit

52½" long by 34" wide by 8½" high for HO unit

24 X 30
18-1" 30 Watt
18 High Output Reflector 60 watt Sun Tanning Lamps Imported from Germany
40½" long by 34" wide by 8½" high for Std unit

52½" long by 36" wide by 8½" high for HO unit

30 X 40
22-1½" 40 Watt
22 High Output Reflector 60 watt Sun Tanning Lamps Imported from Germany
52½" long by 48" wide by 8½" high for HO unit
---
| | |
| --- | --- |
| Standard UV Light Sources 120volt/60hz | for USA and Canada Use |
| Delivery Usually 3 to 9 Weeks | Delivery Usually 4 to 12 Weeks |
| Standard Black Lights | High Output Sun Tanning Lamps (Black Lights) |
| 11 X 14 STD . . . . . . . . . . . . .. . . . . . . . . $695.00 | 11 X 14 HO . . . . . . . . . . . . . . . . . . .$900.00 |
| 14 X 16 STD . . . . . . . . . . . . . . . . . . . . . .$850.00 | 14 X 16 HO . . . . . . . . . . . . . . . . . .$1,150.00 |
| 18 X 20 STD. . . . . . . . . . . . . . . . . . . . .$1,100.00 | 18 X 20 HO . . . . . . . . . . . . . . . . $1,650.00 |
| 20 X 24 STD. . . . . . . . . . . . . . . . . . . . .$3,100.00 | 20 X 24 HO . . . . . . . . . . . . . . . . . .$3,900.00 |
| 24 X 30 STD. . . . . . . . . . . . . . . . . . . . .$4,100.00 | 24 X 30 HO . . . . . . . . . . . . . . . . . .$4,900.00 |
| 30 X 40 STD. . . . . . . . . . . . . . . . . . . . .$5,100.00 | 30 X 40 HO . . . . . . . . . . . . . . . . . .$6,100.00 |
Standard Size 120 volt/60hz UV Light Sources with Built-In Vacuum Frames
Built-In Vaccum Frames Adds Approximately 4" to Overall Dimensions
Delivery Usually 6 to 12 Weeks
| | |
| --- | --- |
| 11 X 14 STDVac . . . . . . . . . . . . . . . .$2,200.00 | 11 X 14 HOVac . . . . . . . . . . . . . . . . .$2,400.00 |
| 16 X 20 STDVac . . . . . . . . . . . . . . . .$2,700.00 | 16 X 20 HOVac . . . . . . . . . . . . . . . . .$3,300.00 |
| 20 X 24 STDVac . . . . . . . . . . . . . . . .$5,600.00 | 20 X 24 HOVac . . . . . . . . . . . . . . . . $6,400.00 |
| 24 X 30 STDVac . . . . . . . . . . . . . . . .$6,800.00 | 24 X 30 HOVac . . . . . . . . . . . . . . . . $7,700.00 |
| 30 X 40 STDVac . . . . . . . . . . . . . . . .$8,000.00 | 30 X 40 HOVac . . . . . . . . . . . . . . . . $8,900.00 |
---
---
UV Light Sources Available for 220-240 Volts/50 Hertz Power For Applications Outside of the USA & Canada
---
| | |
| --- | --- |
| Delivery Usually in 6 to 16 Weeks | All prices are in US Dollars ($) |
| 11 X 14 STD220V/50HZ. . . . . . . . . . .$925.00 | 11 X 14 HO220V/50HZ. . . . . . . . . . $1,300.00 |
| 14 X 16 STD220V/50HZ. . . . . . . . . $1,200.00 | 14 X 16 HO220V/50HZ . . . . . . . . . .$1,500.00 |
| 18 X 20 STD220V/50HZ. . . . . . . . . $1,500.00 | 18 X 20 HO220V/50HZ . . . . . . . . . .$2,400.00 |
| 20 X 24 STD220V/50HZ. . . . . . . . . $3,200.00 | 20 X 24 HO220V/50HZ . . . . . . . . . .$3,800.00 |
| 24 X 30 STD220V/50HZ. . . . . . . . . $4,100.00 | 24 X 30 HO220V/50HZ . . . . . . . . . .$4,800.00 |
| 30 X 40 STD220V/50HZ. . . . . . . . . $5,900.00 | 30 X 40 HO220V/50HZ . . . . . . . . . .$6,700.00 |
Standard Size 220-240 volt/50hz UV Light Sources with Built-In Vacuum Frames
Built-In Vaccum Frames Adds Approximately 4" to Overall Dimensions
Link to Vacuum Frame Assembly and Operating Instructions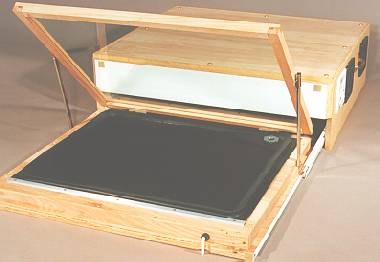 | | |
| --- | --- |
| Delivery Usually 8 to 20 Weeks | All prices are in US Dollars ($) |
| 11 X 14 STDVac220V/50HZ . . . . . . $2,400.00 | 11 X 14 HOVac220V/50HZ . . . . . . . $2,800.00 |
| 16 X 20 STDVac220V/50HZ . . . . . . $3,100.00 | 16 X 20 HOVac220V/50HZ . . . . . . .$4,000.00 |
| 20 X 24 STDVac220V/50HZ . . . . . . $5,700.00 | 20 X 24 HOVac220V/50HZ . . . . . . . $6,300.00 |
| 24 X 30 STDVac220V/50HZ . . . . . . $7,300.00 | 24 X 30 HOVac220V/50HZ . . . . . . . $7,900.00 |
| 30 X 40 STDVac220V/50HZ . . . . . . $8,800.00 | 30 X 40 HOVac220V/50HZ . . . . . . . $9,600.00 |
Be sure to ask for your FREE Matt's Handy Dandy Picture Hanger
2016